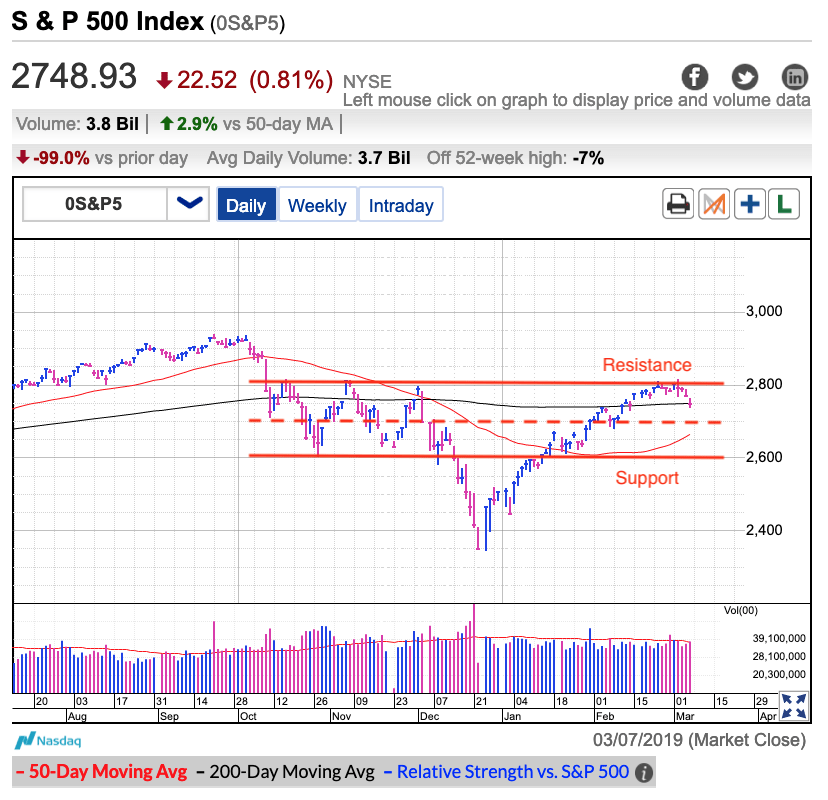 Thursday was another tough session for the S&P 500 as it lost ground for the fourth day in a row and seventh out of the last eight. While the initial down-days were trivial and more sideways than down, the last few have started to add up and we now find ourselves at the lowest levels in nearly a month. This leaves us 70-points under Monday's opening highs and is quickly on its way to being the biggest pullback of the year.
But none of this comes as a surprise to those of us who have been paying attention. Two weeks ago I wrote the following after the market finished higher nine out of the previous ten days:
"While almost everyone loves calm climbs higher, rather than be lulled into complacency, we should be getting nervous about what happens next. The market finishes higher 53% of trading days, meaning it falls the other 47%. If a person believes in reversion to the mean, and they should, expect this string of up-days to be offset at some point by a string of down-days."
Barely two weeks later and we've strung seven out of eight losing days together. Who would have thought???
But now that we've given up a big chunk of February's gains, the question is what comes next. Even though this is quickly becoming the biggest dip of the year, it still has a long ways to go before it qualifies as a legitimate pullback and even further if it wants to match the intensity of this year's strong start.
The market loves symmetry and that means big moves in one direction (last fall's collapse) are matched with equally large moves in the opposite direction (this year's epic rebound). If these oversized gyrations continue, there could be a lot more downside over the next few weeks.
We are currently challenging, and finding support, at the 200dma. If that fails, then 2,700 is the next meaningful level. After that, maybe 2,650…..but more likely 2,600. If we fall that far, most likely we will tumble under 2,600 support before finding our footing. I'm not predicting that we fall that far, just pointing out that it is a very real possibility.
The goal isn't to predict the future down to the day and dollar, but to understand the odds and be prepared for what is coming our way. It is a lot easier to sit through a dip and react rationally when we know what is coming. This allows us to craft our trading strategy with a clear head and not overreact and make poor decisions like everyone else in the crowd.
My preferred way of approaching these situations is selling and taking profits early. While other people are sitting through this weakness wondering if they should sell or keep holding, I'm looking at the market with a clear head and waiting for a great dip buying opportunity. When they're getting scared out, I'm jumping in. If most people lose money in the market, shouldn't we be doing the opposite of most people?
https://www.vindewwealth.co.za/wp-content/uploads/2018/10/Vindew-Logo-300x78.png
0
0
vindew
https://www.vindewwealth.co.za/wp-content/uploads/2018/10/Vindew-Logo-300x78.png
vindew
2019-03-08 10:48:29
2019-03-08 10:48:34
S&P At Lowest Levels In A Month; Time To Sell And Take Profits Early?
President Trump said Thursday that he's a "little dissapointed" by reports of new activity at a North Korean missile center.
https://www.vindewwealth.co.za/wp-content/uploads/2018/10/Vindew-Logo-300x78.png
0
0
vindew
https://www.vindewwealth.co.za/wp-content/uploads/2018/10/Vindew-Logo-300x78.png
vindew
2019-03-08 09:40:49
2019-03-08 09:41:19
Trump disappointed by activity at North Korea missile sites
The S&P 500 broke through the 2,800 milestone Monday after Trump officially postponed the March 1st Chinese tariff escalation. That put traders into a buying mood. Unfortunately, the enthusiasm was short-lived and we quickly slipped back under this widely followed level. We flirted with 2,800 resistance again Tuesday, but ultimately we were unable to close above it.
The market hit its head on 2,800 resistance last October, November, and December, each occurrence resulting in a significant tumble. Over the last two days, it has proven to be a stumbling block again. Will this time end differently than the last three? That is the question everyone is wondering.
Widely watched resistance levels often turn into self-fulfilling prophecies. Prices rally up to resistance. Technical traders see this signal as a good place to take profits. Their profit-taking pressures prices, leading to a small pullback. Other traders see the weakness develop, so they start selling too, adding even more pressure. Prices keep slipping until either we run out of sellers, or they are attractive enough that dip buyers jump in and take advantage of the discounts.
Given how far the market's come since the Christmas lows, it wouldn't be a surprise to see the market take a break and catch its breath. In fact, that would be the normal and healthy thing to do. I would be far more concerned about the sustainability of this rebound if we keep racing ahead without resting.
The daily back and forth is what keeps the market fresh. These gyrations squeeze out the weak and replace them with the confident. But we have had very little pausing and refreshing since this rebound began back in December. Unfortunately, that means a lot of weak hands are still holding on. Rather than flush them out in small, periodic pullbacks, the supply of weak hands is building up to the point where the next pullback could trigger a mass exodus and do a lot of damage.
In many ways, the market is like a forest. Small fires clear out the debris and keep it healthy. Wait too long between fires and too much fuel accumulates, meaning the next fire has the potential to be devastating. At the moment, everything is great and everyone is enjoying themselves. But all it takes is one spark to send everything up in smoke.
The challenge is knowing what that spark will be and when it will come. Until then, everything will be great. Prices will keep drifting higher until they don't. Knowing what the market will do is the easy part because it keeps doing the same thing over and over again. The hard part is getting the timing right. That is where all the money is made. While we don't know the timing of the next dip, that doesn't mean we cannot prepare for it.
For our long-term positions, there is nothing to see or do here. If we are not selling for years, what happens over the next few weeks is meaningless and we can (and should) completely ignore these near-term gyrations. But for a short-term swing trade, we need to be careful up here. Given how far prices have come, the rewards left ahead of us are a lot smaller than the risk underneath us. The time to buy the discounts was weeks ago, not now that prices are far higher. If a trader is doing anything, they should be taking profits, not adding new money. We only make money when we sell our winners and that almost always involves selling too early. People who get greedy and hold too long often end up giving back all of their profits and then some.
To be clear, I'm definitely not bearish and am not predicting a collapse. I've just been doing this long enough to know that I should be cautious when everyone else is feeling good. I'm not calling a top, just warning people to be careful. A routine pullback to 2,600 is most definitely not a collapse, but it will feel like it if a person wasn't prepared for it. The best way to avoid making poor trading decisions is to not be surprised by the normal and routine.
https://www.vindewwealth.co.za/wp-content/uploads/2018/10/Vindew-Logo-300x78.png
0
0
vindew
https://www.vindewwealth.co.za/wp-content/uploads/2018/10/Vindew-Logo-300x78.png
vindew
2019-02-27 13:56:22
2019-02-27 13:56:22
Are We Pausing or Stalling at Resistance?